From glitzy high-rises in the city to modest weekenders in the Yarra Valley, the Yarra River wields an extensive influence over Melbourne's architecture.
The latest project to fall under its spell is in the affluent streets of Toorak, where architects have incorporated curves and textures to imitate the city's famous river.
Edition, on Lansell Road, is a boutique complex of just three apartments. Architect Dom Cerantonio, managing principal at Cera Stribley Architects, says the flow of the river lends itself to gentle curves that shape the design, particularly the interiors.
"We took cues from the site's proximity to the Yarra River and the bending of the river and we drew that out as an idea in the early stages of the design," he says.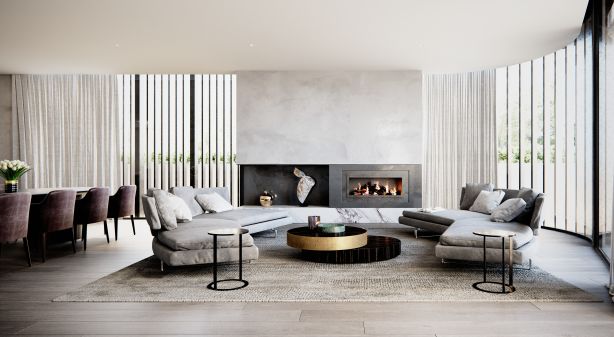 "The flow of the river was the concept behind introducing curves into the plan."
The river's rock embankments are reflected in the texture of the slimline bricks in the facade. Showing a grey hues in one light and a hint of cream in another, these bricks have also been chosen to evoke the "security and strength which is quite often what you see throughout Toorak", says Cerantonio.
Each of apartments at Edition not only has a spacious floor plan, but a distinct design and character. The Sky Residences at the very top occupy the third and fourth floors of the building views that stretch out to the city.
The main bedroom opens to a private balcony and features a classic fireplace surrounded by timber veneer wall panels and bronze shelves. The luxe feel extends to the walk-in wardrobe, which is the size of yet another bedroom, and the en suite which is fitted out with travertine, fluted glass and marble.
The Botanic apartment is found on the lower ground and cleverly makes the most of the five-metre site fall by incorporating a double-height, 6.5-metre void around a spiral staircase. The full-height glass wall looks onto a courtyard.
The Arc apartment, located between the other two apartments, is a single-floor apartment that also enjoys a courtyard aspect.
In a series of ticks for downsizers, Edition is located in the heart of Toorak. To the north lies the Yarra, while shops, cafes and restaurants can be found to the south.
The village type feel of Toorak has made the area attractive for downsizers, says James Xeu, owner of quirkily-named cafe The Dihnersaw and his Fionsay on Toorak Road.
"Probably 30 to 40 per cent of our customers are retirees," he says.
"The rest are mums and kids, teachers from the local schools and office workers."
This article was first published in www.domain.com.au. Here is the link to the original article: https://www.domain.com.au/news/modern-homes-april-13-age-815267/