Perth's median house price has dropped 5.2 per cent in the past year despite early indicators of encouraging signs of a market recovery, new figures show.
House prices fell 2.5 per cent during the March quarter to $529,997 compared to a median of $559,296 in March 2018, according to the latest Domain House Price Report, released on Monday.
Unit prices fell 1.1 per cent during the quarter and 5.6 per cent year-on-year to $347,596.
Domain senior research analyst Nicola Powell said despite the signs of a recovery during the first quarter of this year, house and unit price falls have gathered pace.
"House prices are now 14 per cent, and unit prices 16.6 per cent, below the 2014 peak," she said. "The market recovery is going to be delayed in Perth on the back of the more restricted lending environment.
"If we had (the same) lending (conditions) before the tightening of conditions, I think we would be seeing more signs of recovery now, but that isn't the case.
Source: Domain House Price Report.
MEDIAN HOUSE PRICES
Capital City
Mar-19
QoQ
YoY
Sydney
$1,027,962
-3.1%
-11.5%
Melbourne
$809,468
-2.4%
-10.4%
Brisbane
$563,666
-1.1%
-0.3%
Adelaide
$542,474
0.0%
2.0%
Canberra
$722,440
-0.9%
-2.0%
Perth
$529,997
-2.5%
-5.2%
Hobart
$478,247
3.1%
7.0%
Darwin
$514,546
-0.1%
1.5%
National
$748,217
-2.2%
-7.8%
"You are seeing borrowers being assessed at around seven per cent interest – basically their assessment for a loan is much higher than current mortgage rates. I think, for some buyers, it means that they can't get finance, or those that can get finance, their loan size is being reduced."
Property analyst and valuer Gavin Hegney said the March quarter data was equivalent to a rate of an annual decline of 10 per cent.
He said there was an oversupply of just less than 10,000 properties for sale in Perth, which was concentrated in the lower end and outer suburbs, with properties selling well below replacement costs.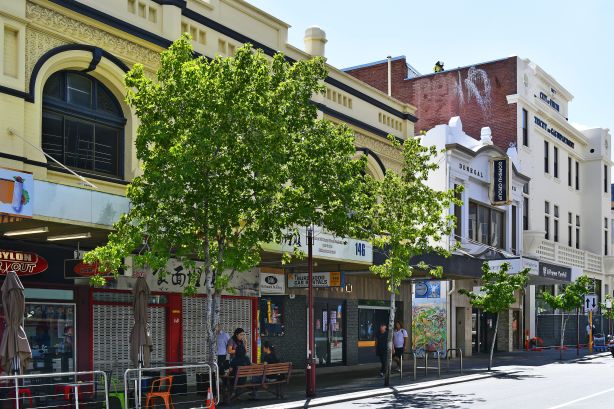 "The numbers also show the banking royal commission and its impact on reduced lending capacity had a greater impact on the West Australian market than any other state in Australia," he said.
"Particularly, given the fact we really haven't seen growth in equity in homes, in probably between five years, and in some suburbs, the past 10 years."
Peard Real Estate chief executive Peter Peard said sales levels were low and down about 40 per cent from a few years ago.
Source: Domain House Price Report.
MEDIAN UNIT PRICES
Capital City
Mar-19
QoQ
Change
YoY
Change
Sydney
$696,935
-2.0%
-6.5%
Melbourne
$466,892
-2.9%
-8.3%
Brisbane
$372,852
-3.7%
-5.2%
Adelaide
$312,459
-2.1%
-1.3%
Canberra
$426,719
-3.2%
-1.7%
Perth
$347,596
-1.1%
-5.6%
Hobart
$363,418
2.6%
8.4%
Darwin
$313,462
-2.6%
-1.7%
National
$526,130
-2.3%
-6.3%
Subdued buyer confidence, a lack of pay increases and declining property equity were among the combination of factors contributing to the state of the market, he believed.
"For summer, there has been pretty ordinary sales activity compared to historical years where it has been more buoyant at that time," he said.
"Although in the top end there is a bit of movement even though values in that market are right down. (But) it is always good to buy and sell in the same market, whether it is good or bad."
Dr Powell said buyers continued to have the upper hand.
"Improved affordability is providing the ultimate silver lining for prospective homeowners, allowing a purchase to be made at 2011 prices," she said.
"Perth's recovery is being hindered by a more restrictive lending environment at a time when local confidence is subdued under weak economic conditions. A sluggish economy is being dragged down by high unemployment, a tight consumer purse, and weak population growth.
"That said, Perth has seen extraordinary growth in the number of views per listing, figures have risen from the recent post-mining boom lows. The rise in views per listing provides a timely gauge of the change in buyer interest, which has been tracking higher since September last year."
Mr Hegney said there was buyer interest in the more affluent suburbs of Perth, where purchasers were more confident in their jobs and of obtaining finance.
"What the banking royal commission tended to do is take out the upgrader market," he said. "So when the top end starts to recover you normally would see the upgrader market start to recover and then it would flow through to the lower end of the market, but the timing of the reduced borrowing capacity meant the upgrader market never really started."
This news article was first published in www.domain.com.au. Here is the link to the original article.