It's hard to think of a town with a cuter name with Penguin, Tasmania, named for a local penguin colony spotted by botanist Robert Campbell Gunn in 1861.
The small seaside locale on Tasmania's north coast has embraced its name; a Big Penguin statue draws onlookers along the esplanade and smaller motifs are scattered throughout.
But there's more to the town than birdlife. Late last year Penguin received a boost with the Seven Day Makeover project, where residents worked together, building and painting civic projects.
Funded by Creative Communities, a place-making organisation, decks and a stage were installed for musicians to perform on along the esplanade, and a penguin adventure trail was developed to help much-welcomed visitors find all the local landmarks.
David Engwich, Creative Communities' director, was "stunned and delighted" by the way the community had rode the wave of momentum after the initial makeover.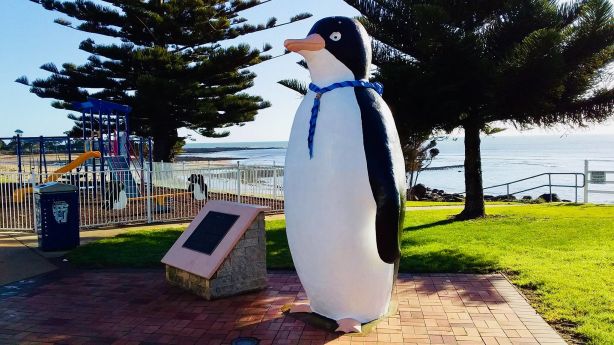 "Now the community has started raising its own funds," he said. "We think the Penguin community is setting the gold standard for other communities."
Local resident Ross Hartley said the makeover had had "a profound impact on the town".
"People came out of the woodwork to make that happen," he said.
Penguin
Population: 3849, as of the 2016 census. Apart from the attractions along the water, Penguin is also home to two beautiful historic churches and a replica Dutch windmill, presented to the town in 1988, a swathe of new sporting facilities, and the heritage-listed Penguin General Cemetery.
Who lives here?
Mr Hartley said Penguin appealed to families – with the local school slated for a $20 million redevelopment to be completed in 2022 – as well as some professionals.
"We have the UTAS Burnie campus just up the road," he said. Some of the university's academics also live close by.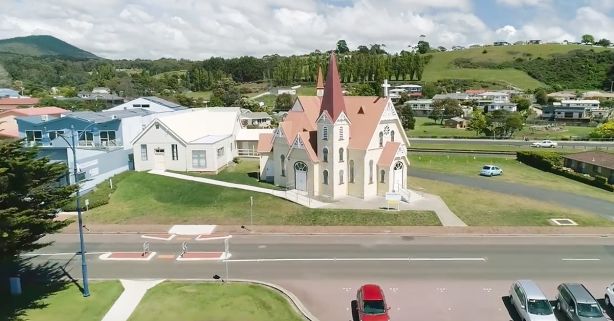 Leah Morrow, from Avalon Body Boutique on Penguin's main street, has seen an influx of people from other parts of Tasmania, and also the mainland, and they are sticking around.
"I've been living here 14 years; I don't see myself moving from here," she explained. "There's a lot of people moving to the area."
This is supported by the median house price of the town – a modest $285,000 compared to the cities, but with 9.8 per cent growth year-on-year, and 15.2 per cent growth over the past five years.
What happens here?
The new decks along the waterfront have encouraged the local music scene, said Ms Morrow, and several local cafes and restaurants hold regular live music nights.
"Naturally the markets every Sunday; they are always a drawcard," she added. "With the beautiful weather that we've been having, and the live music, it's really been attracting people just walking along and enjoying it."
Mr Hartley pointed to the many outdoor activities on offer around the area.
"You can go bushwalking just behind town, [or] you can walk from Penguin to Cradle Mountain. For a little place, we do have a lot of stuff," he said.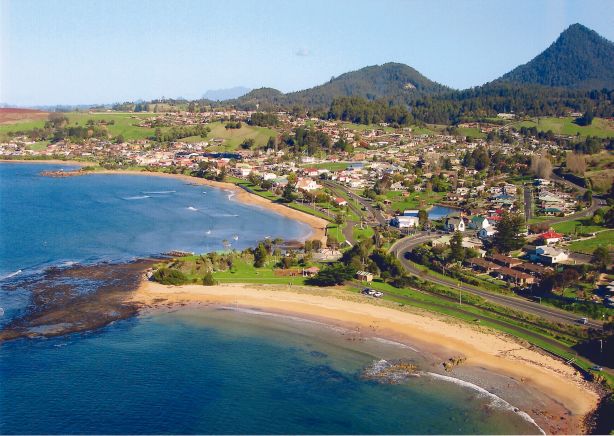 What's life like?
Ms Morrow described Penguin as a community-minded place. "When people are ill, we rally around," she said. "I think, as far as being a tight-knit community, I don't think you could get any tighter. But people are given space as well.
"In the major cities, it takes you three hours to do your shopping, just because of the traffic. But here in Penguin it can take three hours because you're chatting to people, having a coffee, and enjoying the beautiful weather."
Mr Hartley agreed that the weather was better than in much of Tasmania.
"Because it's near the beach, it's a nice climate," he said. "We rarely get a frost here in Penguin, and the lowest temperature would be five or six degrees in winter."
What about work?
Tourism was a strong economic driver within the town, and both Ms Morrow and Mr Hartley said tourists were still arriving in droves despite summer ending.
But with Burnie and Devonport so close — both less than half an hour's drive — it was easy for residents to commute there for work, said Mr Hartley. "You can practically walk to Ulverstone," he added.
Why move here?
As Ms Morrow says, it's just the feeling of the place.
"It's a really nice vibe," she said. " I would just say come and spend a weekend – you won't want to move back. That is basically what I did."
Diane Reed set up a Facebook group to help keen future Tasmanians navigate their move south, having made the move herself from Victoria. She regards herself as the "luckiest woman alive" by calling Penguin home.
"We chose Penguin mostly because of its natural beauty and awesome community feel," she said. "People here actually care about each other."
She said aside from services in the nearby cities, the town itself had two doctors, three supermarkets, an "awesome bakery", post office, bank, and an assortment of small shops.
"With three and half thousand people, it's got a village atmosphere and the main street is right on the beach," Mr Hartley said. "There's not too many places that have that."
This article was first published in www.domain.com.au. Here is the link to the original article: https://www.domain.com.au/news/escape-to-penguin-tasmania-come-and-spend-a-weekend-you-wont-want-to-move-back-810337/