Melbourne's median house price is set to drop to about $740,000 by June next year as the property market continues to weaken, one leading researcher says.
The Victorian capital peaked at a median house price of just under $870,000 about two years ago, on figures from BIS Oxford Economics.
"We think the market will bottom out in early 2020," the group's managing director Robert Mellor told a Melbourne conference on Thursday. "Our expectation is that there is still a fair bit of price decline to come through."
Melbourne house prices are set to fall 13 per cent this financial year and 3 per cent next, he said
Unit prices are expected to fall 4 per cent this year and hold steady in the next.
The research comes as a chorus of economists have predicted further falls in an environment where banks have clamped down on lending under regulatory pressure and the scrutiny of the financial services royal commission.
AMP Capital's Shane Oliver forecasts a peak-to-trough decline in Melbourne dwelling prices of 25 per cent and NAB tips about 15 per cent. Domain's Trent Wiltshire expects Melbourne house prices to reach a trough around the middle of the year before edging higher.
Earlier, the Domain House Price Report found Melbourne house prices fell 8.4 per cent over calendar 2018 to a median $833,321.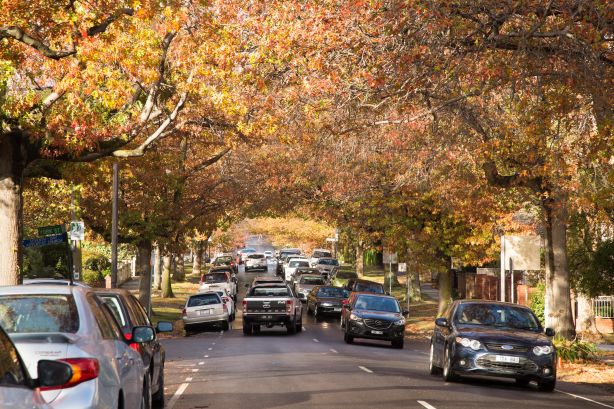 Mr Mellor warned potential buyers were cautious about purchasing in a falling market, while a low rate of turnover for established properties meant owner occupiers were hesitant to sell.
Other headwinds include the drop-off in investor demand and tighter lending standards. Well-publicised problems with flammable cladding and cracking in unit towers were not helping sentiment around apartments.
"Don't expect a quick recovery here in Melbourne, given the magnitude of the last boom," he said.
The right time to trade down would have been at the market peak, he said, but the right time for a first-home buyer to buy "is some time probably in the next 12 months".
Although the federal election was creating policy uncertainty, Mr Mellor tipped Labor to struggle passing changes to negative gearing tax arrangements through the Senate even if it won government next month.
The policy might be implemented more gradually, or there might be changes to how much in interest payments an investor can deduct from their tax bill, or how many properties were eligible for the tax concessions.
Amid the weak market, Mr Mellor expects the amount of new residential building to fall, following the apartment boom of recent years.
A 23 per cent drop in total building commencements across Victoria is predicted for this financial year.
Dwelling commencements in Victoria are set to drop 24 per cent this year and another 18 per cent in 2019-20.
The steepest falls are expected for attached dwellings, where commencements are set to fall 42 per cent this year and 20 per cent next year, he said.
House commencements are expected to drop a more modest 6 per cent this year and 17 per cent next year.
Building approvals have already dropped 17 per cent over the first half of this financial year, he said.
The downturn is more heavily concentrated in Melbourne than regional Victoria. House approvals in Melbourne are set to fall 10 per cent this year and another 19 per cent next, while the rest of the state will see house approvals rise 2 per cent this year and fall 13 per cent next year.
Population growth would be a bright spot and support the housing market, alongside low interest rates and strong employment, he said.
This article was first published in www.domain.com.au. Here's the link to the original article: https://www.domain.com.au/news/melbournes-median-house-price-set-to-drop-to-740000-economist-811497/