The Reserve Bank of Australia has today opted to keep interest rates on hold at 1.5% as the Morrison Government prepares to announce a date for the upcoming federal election.
Rates in Australia have been on hold for a record 32 months, since August 2016, when the RBA cut the official cash rate by 25 basis points.
While most experts had anticipated the RBA's decision to maintain the status quo, it is also a reflection of the precarious state of the economy, according to realestate.com.au Chief Economist, Nerida Conisbee.
"The RBA held rates today with economic data still too mixed to make a move. In particular, employment data remains strong with unemployment data low and job vacancies now at their highest level ever recorded," she says.
"While employment is strong and not many people fear losing their jobs, this is not flowing through to consumer confidence, retail spending or wages growth. All these factors remain subdued."Tips to keep ahead of the property market
Play Video1:05
Reserve Bank Governor Philip Lowe says the RBA was also swayed by the continued decline in house prices.
"Conditions remain soft and rent inflation remains low. Credit conditions for some borrowers have tightened a little further over the past year or so. At the same time, the demand for credit by investors in the housing market has slowed noticeably as the dynamics of the housing market have changed," he says.
Global markets & flat wages won't help
While the official cash rate will remain on hold for yet another month, that doesn't mean home owners won't see a change in their mortgage repayments.
In fact, with wage growth sitting at 2.3% and major lenders raising their rates outside of the RBA's monthly meeting, most home owners are more likely to see their housing costs rise and will rein in their spending accordingly.View image on Twitter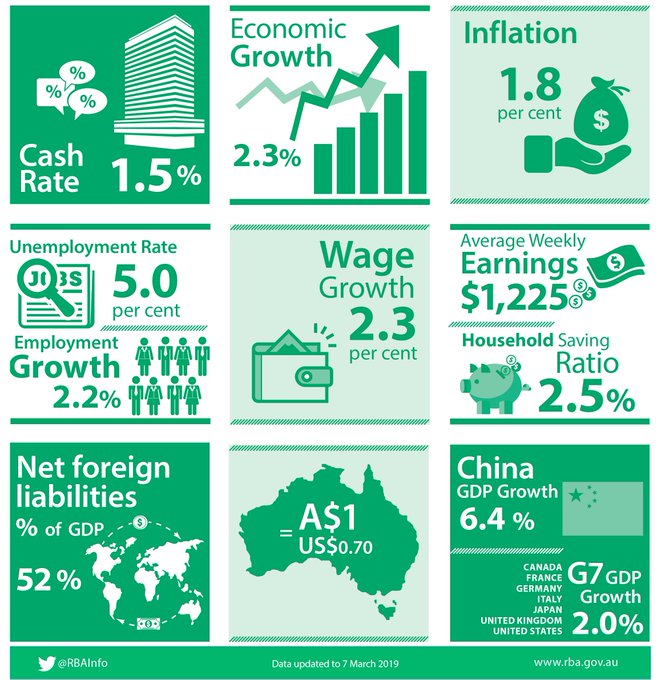 The RBA has released a snapshot of Key Economic Indicators – https://bit.ly/2QpxiY8 406:15 AM – Mar 8, 201942 people are talking about thisTwitter Ads info and privacy
Australian lenders get a significant proportion of their funding from overseas markets, and with the US economy continuing to recover and rates in the UK and the EU likely to move as Brexit negotiations are finalised, the wholesale cost of debt for banks here will soon rise.
With 41% of realestate.com.au visitors surveyed in March predicting major lenders will raise rates, Australians are probably expecting further rate rises from their banks, despite the monthly decision of the RBA.
This article was first published in www.realestate.com.au. Here is the link to the original article: https://www.realestate.com.au/news/reserve-bank-keeps-rates-on-hold-as-2019-election-looms/