Catching the train from Geelong and into Melbourne should be a dream commute. It takes just over an hour and all the while golden fields, native brush and choked highways whip by the windows.
But in the past five years, the city and its surrounding regions have had a growth spurt. Its population has grown nearly 13 per cent and house prices have jumped 44 per cent.
An exodus of Melburnians hoping to escape a cramped lifestyle have fled to the bayside city, and the first signs of a burgeoning congestion issue have followed them.
The migration was driven by Geelong's comparatively low property prices, perceived quiet lifestyle and connectivity to the Melbourne CBD.
Anxiety about the city's growth is permeating the general atmosphere of optimism that followed the transfer of the Traffic Accident Commission, WorkSafe and National Disability Insurance Scheme into Geelong in recent years.
For some time it seemed like the Melbourne's runaway property market would also take Geelong's prices to an unattainable level too.
Geelong house prices
QUARTER
HOUSES: YOY GROWTH %
UNITS: YOY GROWTH %
Mar-14
4.7
5.8
Sep-14
3.5
7.2
Mar-15
2.6
8.6
Sep-15
4.4
0.2
Mar-16
5.9
-3.5
Sep-16
5
-4.4
Mar-17
7.6
-2.6
Sep-17
13
9.6
Mar-18
15.3
13.2
Sep-18
11.7
12.5
Mar-19
5.2
9
Source: Domain
In the past 18 months, Geelong had three quarters with double-digit house price growth, and during most of last year clearance rates were a good 10 to 20 per cent higher than Melbourne's, which went through an uncharacteristic auction slump due to credit tightening.
Earlier this week, the nearby Bellarine Peninsula recorded its highest yet sale price, $6.5 million for a beachside mansion.
But the market is yet to run away from the average buyer. Growth has slowed to 5 per cent for the March quarter, and clearance rates are down to 50 per cent, just above Melbourne's.
Auction volumes have halved since this time last year, which threatens to cause a spike in prices. But an increase in days on market shows properties aren't flying off the shelves.
With the property market unlikely to run away from middle-income earners and first-home buyers, trains have become the focal point of Geelong's population anxiety.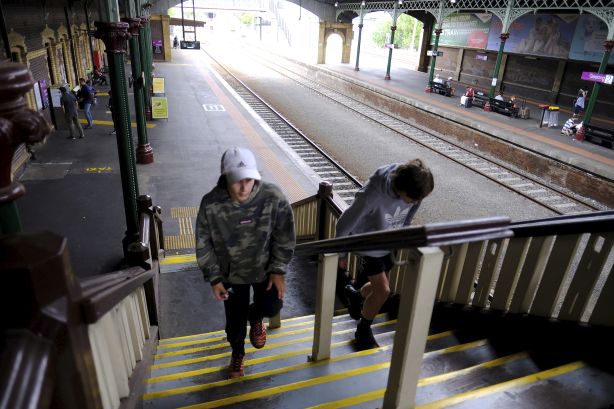 As a consequence of the rapid growth, what should be a pleasant commute into the city on the train is instead nicknamed the "sardine express" by many.
"It's running at 140 per cent [capacity]. It's the busiest rail line in Australia," Greater Geelong mayor Bruce Harwood said. "Do yourself a favour, just catch it one day. Catch a peak-hour train.
"It's standing room only by Geelong, just about. You get just out of Geelong, and it's busy.
"You get to Tarneit and it's chockablock. You get into Wyndham Vale, you're pressed in shoulder to shoulder.
"That's every day," he concluded, exasperated.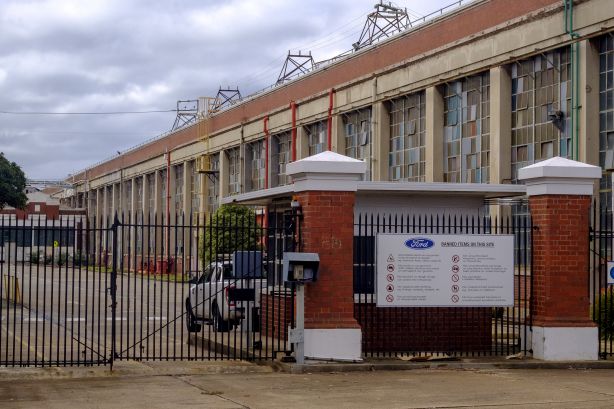 The Geelong Regional Alliance's chief executive Elaine Carbines says of the 21,000 people that commute from Geelong into the big city, one-third of them get the train. So the Geelong line's lack of space is a pretty hot-button issue in town.
Geelong CBD office worker Simone Grace said the packed trains were a major concern for her as a new mother, and her elderly mother. "She complains that she never gets a seat," she said. "We certainly need a lot more infrastructure. It is developing a lot. Our public transport is a real issue."
Student Connor Ahpene shares her concern. "I'd definitely say [Geelong's] getting busier. Hopefully they do improve the speed of the trains."
As well as adding hundreds of new residents, the arrival of several government agencies and bodies has seen a change in demographics across the city.
National Hotel publican James Ramia said it was a great boost for the city following the decimation of Ford, Alcoa and Shell, and changed the type of guests he thought he'd be catering to when re-opening the pub in 2015.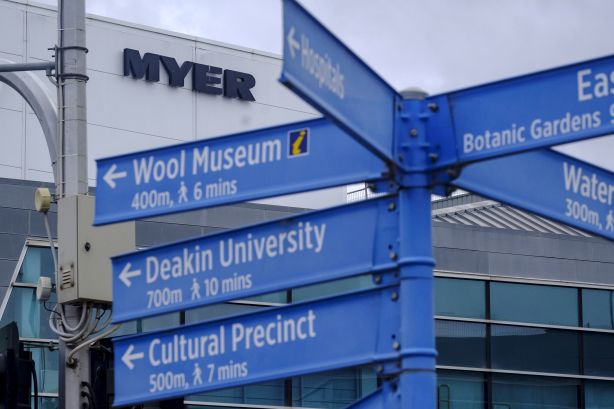 "It's changed … the majority of the clientele we get now is definitely your office workers," he said. "There's a huge public sector presence … so there's a lot of white-collar workers around town now."
The comparatively colossal government buildings now dominate the landscape, a symbol of the change foisted upon the unprepared city.
Kaye Rees and husband Greg moved there recently because of his job with one of the departments.
Ms Rees still works in Melbourne and the pair have trialled living in both cities. But escaping the Melbourne crowds was more attractive in the end.
"Even little things like taking a dog for a haircut [in Melbourne], I have to book in six weeks in advance," Ms Rees said. "Anything you need to get done in Geelong there's a two-week wait – at best. We were a bit tired of all the traffic and not being able to do things so easily.
"If you want to do something you can actually do it in Geelong, and it's not far."
Average days on market for Geelong houses
| | |
| --- | --- |
| Mar-17 | 90 |
| Jun-17 | 77 |
| Sep-17 | 65 |
| Dec-17 | 56 |
| Mar-18 | 64 |
| Jun-18 | 52 |
| Sep-18 | 51 |
| Dec-18 | 51 |
| Mar-19 | 68 |
But recent arrivals and long-time locals fear a lack of infrastructure spending and improvement will rob them of the quiet and easy lifestyle they now enjoy.
Cr Harwood has lobbied hard for more frequent train services on the Geelong line, a line duplication and of course the big-ticket $4 billion newly budgeted fast rail – announced in the recent federal budget but panned by the state government, which said the project could cost three times as much.
The mayor sees the improvements as a necessary step, along with further infrastructure investment, to save the city from suffering Melbourne's fate.
"It's not do-or-die but if we don't do it now we're playing catch up. It's going to be ugly," Cr Harwood warned.
"If we don't move our population … we'll be clogged. It'll be hard to visit your family and friends, it will be hard to take your kids to school or sport or get down to the beach, it'll be worse and worse.
"Population growth can't be slowed. We're at 2.8 per cent and soon it'll be 3 per cent. It's not sustainable."
Geelong clearance rates
| | |
| --- | --- |
| Feb-18 | 76% |
| Mar-18 | 73% |
| Apr-18 | 69% |
| May-18 | 71% |
| Jun-18 | 67% |
| Jul-18 | 67% |
| Aug-18 | 58% |
| Sep-18 | 61% |
| Oct-18 | 54% |
| Nov-18 | 47% |
| Dec-18 | 36% |
| Jan-19 | N/A |
| Feb-19 | 44% |
| Mar-19 | 50% |
If it's done right, McGrath Geelong principal David Cortous said, the property market would surge. A fast-rail link that takes just over 30 minutes would revolutionise the city.
"I think it's what Geelong needs, to be connected to Melbourne with something like that," he said. "I think you'll find the gap between Melbourne and Geelong real estate prices will close."
Ms Carbines said the growth would be welcomed by the locals, but they wanted to be heard by state and federal governments.
"The key issue with people in this region is planning for growth. People here are happy for growth but if it's planned for," she said. "We already have outpaced our infrastructure. Over the past two to three years it's been a population boom here so now we have an infrastructure deficit."
This article was first published in www.domain.com.au. Here is the link to the original article.