First-home buyers are set to determine who will win this year's federal election, new data shows, with electorates in the outer-ring suburbs of capital cities, including Melbourne, holding key marginal seats.
How these electorates vote across Australia will determine whether Prime Minister Scott Morrison and his Coalition government return to power, or Bill Shorten and the ALP take the reins after the election — predicted to be held in mid-May.
In Melbourne, the federal electorates which could see swings between the major parties include Dunkley, which takes in the suburbs of Frankston and Mount Eliza, Casey with Lilydale and Belgrave, and Latrobe with the booming growth belts of Cranbourne and Pakenham.
They are all found on Melbourne's fringes where first-home buyers have flocked for more affordable homes.
These electorates were more likely to have lower rates of renters, higher rates of home owners with mortgages and lower median house prices compared to safer inner Melbourne seats, Domain data shows.
Domain economist Trent Wiltshire said median house price data over the past year revealed a gap between the inner and outer suburbs — and not just in who they voted for or their property prices.
"Over the one-year change there is a clear pattern, and that is the electorates in inner-city Melbourne with the more expensive properties have seen the biggest house price falls," Mr Wiltshire said.
"Owners without mortgages are skewed to the [safe] Liberal held seats – they tend to be wealthier and older and bought decades ago pre-property boom. These things combined means they had time to pay off their mortgage."
The safer inner-city seats were also likely to have a higher percentage of people renting. In the federal electorate of Melbourne, which Greens MP Adam Bandt represents, more than 62 per cent of residents were renters. The electorate has a median house price of $1.17 million which dropped by 15.7 per cent over the past year.
The most expensive house price median in Victoria, $1.528 million, is found in the electorate of Goldstein which includes the suburbs of Brighton, Hampton and Sandringham. Goldstein, represented by Liberal MP Tim Wilson, has seen the median house price drop by 10.4 per cent in the past year.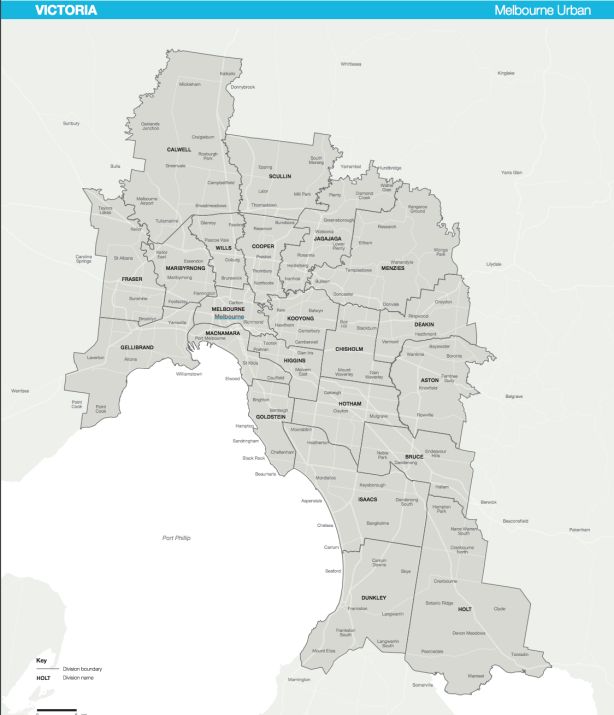 These figures sat in comparison to the outer suburbs of Melbourne whose medians remained a little more steady.
In the electorate of Dunkley, currently represented by Liberal MP Chris Crewther, the house price median is $621,000. That median rose 53.5 per cent over the past five years, which includes the time since the last election. Over the past year, however, house price medians have dropped by 2.1 per cent.
In Casey, where Liberal MP Tony Smith is the representative, the median now sits at $676,000. The house price median in Casey has risen 54.9 per cent over the past five years, but has dropped by 7.7 per cent between December 2017 and 2018.
One of the best performers in terms of house price medians was the electorate of Latrobe, where fellow Liberal MP Jason Wood holds the seat. The median house price is $600,000 which has risen by 45.1 per cent over the past five years. It has also seen a median rise of 2.6 per cent over the past year.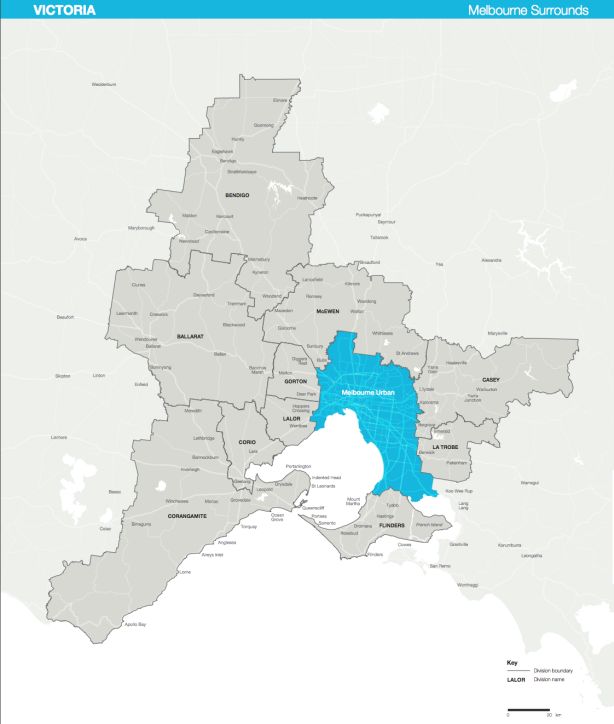 Monash University's senior lecturer in political sciences Nick Economou said it was these electorates that would decided the outcome of the election.
"My view is that governments are made or broken in seats on the fringes of the cities," Dr Economou said. "It's the same in Melbourne, Sydney, Brisbane and Adelaide."
He said first-home buyers in marginal seats would be unlikely to worry about policies or promises regarding cuts to negative gearing tax breaks for investment properties as they mostly could not afford them.
They would be focused on party promises to keep interest rates low, employment rates high and see penalty rates for weekend work being reinstated. These could see a swing against incumbent PM Scott Morrison and his government in some outer seats at the upcoming election, he said.
"[Ex-prime minister] Malcolm Turnbull supported the Fair Work Commission and did away with weekend penalty rates," Dr Economou said.
"Quite often couples in the outer suburbs have both people working. It's the old-fashioned patriarchy but those working part-time are usually women and they rely on penalty rates to help pay the mortgage. There definitely could be a residual resentment there."
Victorian federal electorate data by household
| | | | | | | | |
| --- | --- | --- | --- | --- | --- | --- | --- |
| Electorate | Held by | Median house price Dec 2018 | Median house price – 1 year | Median house price – 5 years | Properties owned outright | Owned with a mortgage | Rented |
| Aston | LP | $740,000 | -10.3% | 43.7% | 34.1% | 42.5% | 19.7% |
| Ballarat | ALP | $400,000 | 9.3% | 29.0% | 33.6% | 35.6% | 27.3% |
| Bendigo | ALP | $387,000 | 4.3% | 13.8% | 35.2% | 35.9% | 25.4% |
| Bruce | ALP | $615,000 | -1.6% | 53.8% | 30.8% | 32.9% | 32.0% |
| Calwell | ALP | $563,000 | 2.4% | 51.3% | 25.8% | 44.9% | 25.5% |
| Casey | LP | $676,000 | -2.0% | 54.9% | 34.0% | 48.2% | 14.5% |
| Chisholm | LP | $1,100,000 | -16.5% | 40.9% | 37.9% | 29.3% | 29.2% |
| Cooper | new electorate | $840,000 | -8.7% | 34.4% | 30.2% | 28.0% | 38.1% |
| Corangamite | ALP | $619,000 | 12.5% | 36.0% | 38.1% | 38.4% | 20.0% |
| Corio | ALP | $515,000 | 7.3% | 45.% | 33.1% | 32.2% | 31.3% |
| Deakin | LP | $812,500 | -9.8% | 44.6% | 34.4% | 39.0% | 23.7% |
| Dunkley | ALP | $621,500 | -2.1% | 53.5% | 28.3% | 41.1% | 26.7% |
| Flinders | LP | $715,550 | -1.3% | 47.5% | 38.8% | 34.3% | 22.1% |
| Fraser | ALP | $622,000 | -3.1% | 59.7% | 35.7% | 32.2% | 27.5% |
| Gellibrand | ALP | $750,000 | -2.9% | 36.4% | 27.2% | 37.1% | 32.6% |
| Gippsland | NP | $287,000 | 1.7% | 15.3% | 39.6% | 32.5% | 23.9% |
| Goldstein | LP | $1,528,000 | -10.4% | 48.3% | 38.4% | 32.4% | 26.0% |
| Gorton | ALP | $540,000 | 5.9% | 47.5% | 23.4% | 50.7% | 22.3% |
| Higgins | LP | $1,460,000 | -18.3% | 32.7% | 29.4% | 25.6% | 42.0% |
| Holt | ALP | $570,500 | 0.6% | 48.2% | 19.3% | 56.8% | 20.6% |
| Hotham | ALP | $950,000 | -12.8% | 42.7% | 36.5% | 30.1% | 29.6% |
| Indi | Independent | $350,000 | 6.1% | 29.6% | 38.4% | 32.8% | 24.6% |
| Isaacs | ALP | $860,000 | -7.0% | 45.8% | 32.9% | 39.1% | 24.6% |
| Jagajaga | ALP | $820,000 | -6.3% | 42.6% | 37.4% | 37.2% | 22.4% |
| Kooyong | LP | $1,750,000 | -17.1% | 26.4% | 37.6% | 28.4% | 31.1% |
| Latrobe | LP | $600,000 | 2.6% | 45.1% | 24.6% | 49.5% | 22.4% |
| Lalor | ALP | $542,000 | 4.2% | 52.7% | 21.1% | 47.6% | 28.2% |
| Macnamara | ALP | $1,225,000 | -27.9% | 31.7% | 21.4% | 22.9% | 52.5% |
| Mallee | NP | $258,000 | 5.3% | 27.1% | 41.1% | 29.6% | 24.8% |
| Maribyrnong | ALP | $925,000 | -2.6% | 43.4% | 31.7% | 29.5% | 35.3% |
| McEwen | ALP | $575,000 | 2.7% | 43.8% | 28.2% | 50.5% | 18.6% |
| Melbourne | Greens | $1,117,000 | -15.7% | 39.6% | 15.6% | 18.0% | 62.6% |
| Menzies | LP | $1,110,000 | -13.3% | 42.1% | 44.1% | 35.5% | 16.9% |
| Monash | LP | $430,000 | 13.2% | 37.6 | 39.9 | 34.1 | 22.2 |
| Nicholls | new electorate | $310,000 | 6.9% | 15.7 | 36.8 | 32.8 | 25.9 |
| Scullin | ALP | $611,000 | -3.8% | 52.8 | 31.1 | 40.7 | 24.6 |
| Wannon | LP | $300,000 | 5.3% | 16.7 | 40.6 | 32.1 | 23.1 |
| Wills | ALP | $780,000 | -3.7% | 41.3 | 30.0 | 28.2 | 38.4 |
Source: Australian Electoral Commission (AEC); ABS; Domain
This article was first published in www.domain.com.au. Here is the link to the original article: https://www.domain.com.au/news/first-home-buyers-in-major-capitals-to-decide-the-winner-of-the-federal-election-815394/