Saving for a first home can seem an insurmountable task. Whether you're in Sydney, Brisbane or Adelaide, scraping enough together for a 20 per cent deposit can — and usually does — take years.
So Australians hoping to buy their first home will be buoyed by a new report which has found the average time needed to save a deposit has fallen over the past 12 months in major capital cities.
According to the Domain First-Home Buyers Report, released on Friday, a dual-income couple aged between 25 and 34, who were each saving one-fifth of their post-tax income, would now reach their dream of owning a house faster in Sydney, Melbourne, Perth and Darwin.
For couples in Canberra, Brisbane and Adelaide, it now takes one month longer to save for a house deposit than it did this time last year.
Certainly, getting that foot on the ladder is a tough task, wherever you are in Australia. Here's how first-home buyers across all of our capital cities have managed to make the great Aussie dream their reality.
Sydney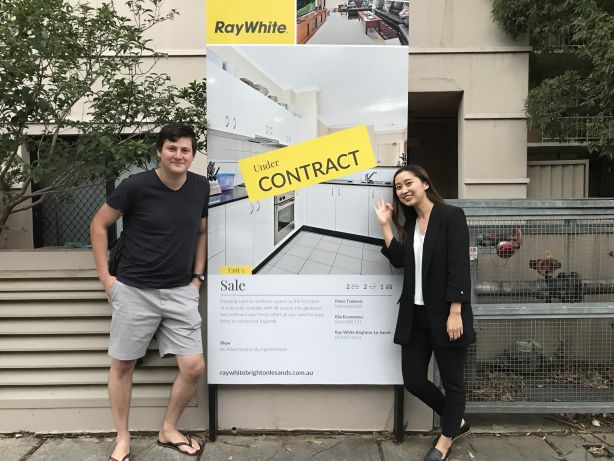 Anthony Medina and Jenny Gao
Paid: $658,000
How long to save: 5 years
Sydney couple Anthony Medina and Jenny Gao bought their first home in March after years of saving.
Mr Medina decided to start saving for a deposit the moment he finished school and began working as an electrician, but he said it was hard at the outset to save much as an apprentice.
"I've been a bit lazy … I always thought of doing [it] but never really pursued anything," Mr Medina said.
It was not until he met his partner Jenny two years ago that he seriously began saving and looking for property.
"I ran it past her and she thought it was a good idea as well," he said.
Mr Medina said the combination of a few years of savings under his belt and the property downturn in the past year had created the perfect timing to get his foot in the door.
"I was planning on doing it a couple of years ago but now that prices have dropped, it seemed like a perfect time," he said.
After saving $150,000 for their deposit, the young couple began looking in November in several areas, including Riverwood, St George and even Concord, where they are currently renting.
They had a budget of $650,000 to $700,000 in the hope of avoiding paying stamp duty.
In the end, they snapped up a two-bedroom unit in Kogarah for $658,000, paying just $1600 for stamp duty.
Mr Medina said they ended up settling for a unit because they wanted to stay within their budget and not live too far out west.
He said the past year of saving for a deposit was the hardest as they were paying $350 a week in rent.
"It was a lot easier maybe prior to a year ago because I was living with my parents; I still had a bit of flexibility but now paying rent, it's hard to save when you're paying rent," he said.
They are a few weeks away from moving into their new home and are already thinking of ways of reducing the stress of their initial mortgage repayments, which will be about $2500 a month.
"We're thinking of renting out the second room to get a bit of breathing space. if we can rent out just one of the rooms that would help us a lot."
— Tawar Razaghi
Melbourne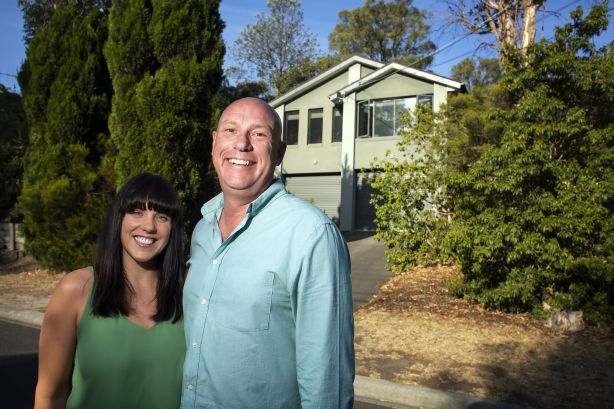 Sarah and Nicholas McLoughlin
Paid: $855,000
How long to save: 18 months
Melbourne couple Sarah and Nicholas McLoughlin bought their first home last November.
They snapped up a four-bedroom, two-bathroom home in Eltham through an expressions-of-interest sale for $855,000.
The McLoughlins had been renting in Eltham for 18 months before buying to save money for a deposit. This allowed them to save more money than when Ms McLoughlin had been renting a separate apartment in South Yarra, while Mr McLoughlin had been sharehousing with his brother in Eltham.
"We did save a bit. We just kind of re-prioritised going out so we saved that for special occasions – for friends' or families' birthdays – instead of going out for dinner once or twice a week," Mr McLoughlin said.
Both have a career with the Department of Health and Human Services, working with people with disabilities.
They made an unconditional offer on the property to buy it.
"We started off by attempting to buy a place in October last year at auction. We didn't know what we were doing and we sent my parents," Mr McLoughlin said.
The couple watched the bidding action via an app as they were away when the auction was on. Mr McLoughlin's parents made the highest bid for the property but, as the price didn't reach the vendors' reserve, it was passed in.
"After that we were a bit disillusioned," he said.
The couple went to other auctions and decided to use a buyers advocate to help them out. They also used a mortgage broker who was a friend to get their finance.
They decided on a 30-year mortgage. As Nicholas is 45, he was asked how he planned to make the mortgage repayments after retirement age.
"We told them Nic would work longer than retirement age," Ms McLoughlin said with a laugh.
The McLoughlins wanted the type of mortgage where they could still enjoy a good lifestyle.
"We still wanted to be able to save for holidays and have a good quality of life and not be overstretched," Ms McLoughlin said.
"Saying that, our budget increased quite a bit on our journey of buying our house."
They have so far only made one mortgage payment since moving into their home a month ago.
"It's not too bad. It's more expensive than renting but it's easier than we expected. We've been adding a bit more to the joint account," Ms McLoughlin said. "We've only got one bill so far and we haven't paid the rates yet."
— Melissa Heagney
Brisbane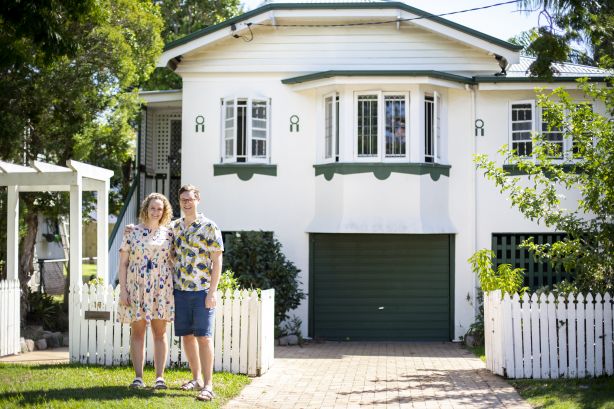 Jess Carmichael and James Mulligan
Paid: $635,000
Saved for: 2.5 years
Jess Carmichael and her partner James Mulligan had been living together in London for four years but buying a house back home in Brisbane was always part of the plan.
The couple, both town planners, did not have a specific goal in mind for their savings but had been putting money away for two years before they moved back to Brisbane in September last year.
For the next six months, they lived with her parents and made the most of the opportunity, saving like mad while researching in earnest.
"It certainly helped a lot. We paid a little bit of board but it was a nominal amount, certainly not equivalent to renting," Ms Carmichael said.
"We spent a lot of that time researching where in Brisbane we wanted to buy, the average market values in those areas, and that informed our approach in terms of what we could realistically achieve within our budget."
Settling on the character suburbs around Brisbane's inner to middle-ring north, they had a list of features that were important to them, such as accessibility to public transport, proximity to parks and having an outlook.
"We looked from September to January, seven different houses every Saturday. It was exhausting but you need to do the research," Ms Carmichael said.
"To be honest I don't think a lot of agents took us very seriously because they could tell we were in that research phase."
The couple enlisted a mortgage broker to help them navigate the home loan process and were conscious of not stretching themselves. They had a 20 per cent deposit, which Ms Carmichael said opened up better interest rate deals for them from banks.
After missing out on a house at Stafford, they snagged a gorgeous two-bedroom character home in a sought-after Kedron street via private treaty for $635,000.
"The only thing this house doesn't have that the other one did was an outlook. We don't have a view here. But we're seven kilometres from the city and in a really nice spot, so we've done pretty well," Ms Carmichael said.
"In hindsight we're glad we didn't get the house at Stafford. For the price we paid for this house, I don't think we compromised really."
Adjusting to mortgage life has been easy for the couple.
"We've actually worked out that our mortgage repayments are less than our rent was in London," Ms Carmichael said.
"And I think we'll find the bills more manageable to be honest. The challenge will be to work through a sequence of what we want to do for renovations and planning and saving for those things now."
— Ellen Lutton
Perth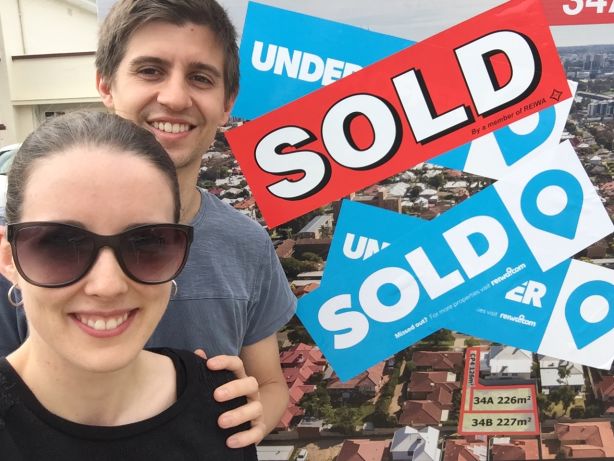 Alicia Manning and Brendon Dawson
Paid: $554,000
Saved for: 2 years
For Perth high school sweethearts Alicia Manning and Brendon Dawson, saving a deposit and buying their first home was the result of sacrifice and discipline.
The 27-year-olds moved into their new home in Victoria Park last August after years of savings and a shared dream of home ownership.
On completion of their university degrees and after finding jobs in their respective fields – Dawson is a solicitor and Manning a scientific advisor– the pair rented and saved hard to build on their savings.
"We were just out of uni, so we basically kept living our uni lifestyle," Mr Dawson said.
"We were fairly frugal and basically saved one of our incomes while using the other person's income to live.
"It was hard because effectively we were living on the one salary for the two of us but I think the big advantage was for us was we'd been in a stable relationship for a long time, and we had shared money so it was much more doable and coming out of uni we didn't have many expenses lifestyle-wise."
After two years of knuckling down for a deposit, the pair embarked on their home search journey.
"We starting looking around for houses but ended up buying a block, which was probably a bit cheaper because it had an old service road that hadn't been developed and probably won't be for a couple of years," he said.
The state government's $10,000 WA First Home Owner Grant was an added bonus for the couple and helped sway their decision to build rather than buy an established home.
After securing the block, which cost $304,000, the couple spent another six or so months saving and searching for a builder.
Today, Mr Dawson and Miss Manning are loving living in their three-bedroom, two-bathroom home, which they built for about $250,000.
"It's great to have somewhere nice that we are actually making payments for, that's going towards an asset for us," Mr Dawson said.
— Lisa Calautti
Adelaide
Chad Nicolle
Paid: $235,000
How long to save: 3 years
Chad Nicolle considered his options carefully before taking the plunge to buy his first home.
He paid $235,000 for a two-bedroom villa in the southern suburb of Morphett Vale, settling in October and moving into the home in February after the previous tenant moved out.
A lifelong Adelaide resident, he had rented on his own for the previous nine years.
"It took me a very long time to make the decision to buy a house," Mr Nicolle told Domain. "I weighed up all my options and got into the habit of knowing what it would be like before I started."
A redundancy payout from a previous job a few years ago gave his nest egg a boost, and he saved for three years before buying.
So far, paying off a mortgage "hasn't been too bad" for the 35-year-old, who works as a customer service manager for a fibre optic company and arranged his home loan through Sam Walker at Aussie in Prospect.
He estimated that he pays about $60 to $70 more a week to own rather than rent, and he sets aside cash for council rates and strata fees.
"I don't feel any different from renting. The only difference is I have two quarterly bills I wouldn't have otherwise," he said.
This means he isn't able to save as much money as in the past towards holidays or other goals. He is also in the habit of taking his lunch to work, but says his social life hasn't changed.
"I'm still living my life, I'm still doing the things that I want to," he said. "It's not as scary as what I thought it would be."
— Elizabeth Redman
Canberra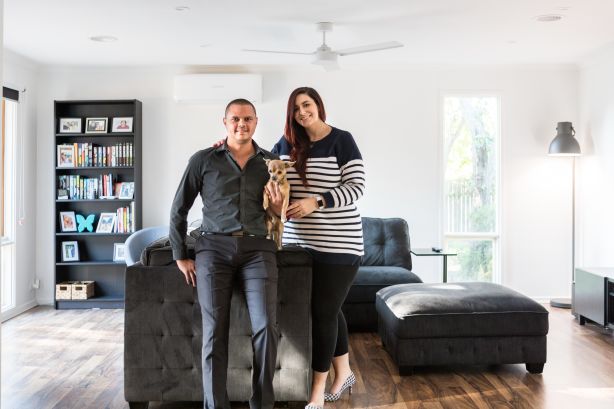 Joshua and Natalie Graham
Paid: $447,000
How long to save: 18 months
Paying off a mortgage can be a daunting task for many first-home buyers, but for those in the ACT you might be surprised to know it could mean more money in your pocket with some loan repayments less than the weekly asking rent.
With Canberra's median asking rent prices the highest in the nation for houses, many renters are looking to get their foot in the property market.
Joshua and Natalie Graham used to rent their three-bedroom house in the southern Canberra suburb of Gilmore and were paying $430 per week.
In December, they purchased the house for $447,000 and they are now paying $380 per week in loan repayments – $50 less than what they paid for rent.
Mr Graham said they were a few months off from starting the search for a home, but when their rental was put up for sale, "buying the place was a no-brainer".
"We had been saving and met with [a mortgage broker] 18 months before to look at our options and get ourselves into the best position to buy a place," he said.
"We put in an offer, initially, a low offer as you do, and that got knocked back but we reassessed everything and offered them another $20,000 on top of our original offer and they accepted it."
From July 1, stamp duty will be exempt on all properties in the ACT for first-home buyers under an income threshold of $160,000. While Mr Graham missed out on the incentive, he's glad he's didn't miss the opportunity to own his rental now.
"The price of homes in Canberra is quite high and so that would've helped us. We obviously had the option to defer our stamp duty but because we got it at a pretty good price we decided to pay upfront," he said.
"But if we were still renting we would wait until the exemption came into place."
— Lucy Bladen
Hobart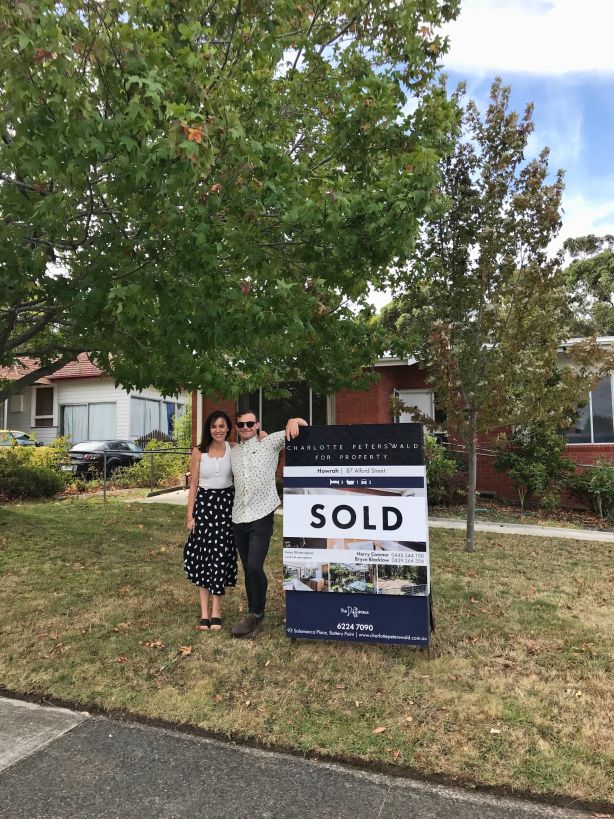 Thomas Webster and his partner Whitney
Paid: $430,000
How long to save: 18 months
Thomas Webster and his partner Whitney recently bought their first property in Howrah, in the wider Hobart area. The couple, who are both in their 30s, paid $430,000 for the three-bedroom, one-bathroom estate through Charlotte Peterswald for Property.
Mr Webster points to challenges around affordability as a motivator for buying. "The rental market in Hobart is just crazy. There's not much available and the cost is pretty ridiculous."
The couple were on a rolling lease, which gave them the impetus to buy.
Mr Webster and his partner started seriously saving for a home about 18 months prior to buying. They originally tried saving money for their home loan individually, but soon found that approach wasn't working.
"It was only once we starting saving together that we really gained momentum," he said. "We set up a purpose specific account that we both contributed to fortnightly. We couldn't withdraw money from it unless we both signed off on it."
Mr Webster said the most challenging part of buying their first home was the time required to develop an informed understanding of the property market, as well as managing the stakeholders involved. "We're fortunate that Whitney was a teacher on school holidays, which allowed her to dedicate a fair portion of her break dealing with the bank, real estate agents and conveyancers.
"It was a steep learning curve but the reward of home ownership is well worth the journey."
Mr Webster said the couple's combined income and job security – from TasNetworks and from teaching – should make mortgage repayments feasible, but that if they had taken out a larger loan it could have been a different story.
— Isabelle Chesher
This article was first published in www.domain.com.au. Here is the link to the original article: https://www.domain.com.au/news/first-home-buyers-across-australia-813580/