It's not the first time a "world-first" building is being claimed by Melbourne.
But when it opens in April, Melbourne City Mission's Frontyard Youth Services in King Street will take the descriptor – and for good reason. Near the corner of Flinders Lane, it will be a place where young people living on the streets, or at risk of homelessness, can find a home and get the support services they need 24 hours a day. A world-first, according to those in the youth services field.
Melbourne City Mission homelessness and justice general manager Wayne Merritt said there was an urgent need for a building offering accommodation and health, legal and drug and alcohol services for young people aged 16 to 25 in the city.
Between 30 and 60 young people seek crisis accommodation from Frontyard Youth Services each day.
"I think, over the past six years, there's been a noticeable increase in young people sleeping rough in the city," Mr Merritt told Domain. "[And] we know when young people come to our services, we've only got one chance to help them, otherwise they're gone."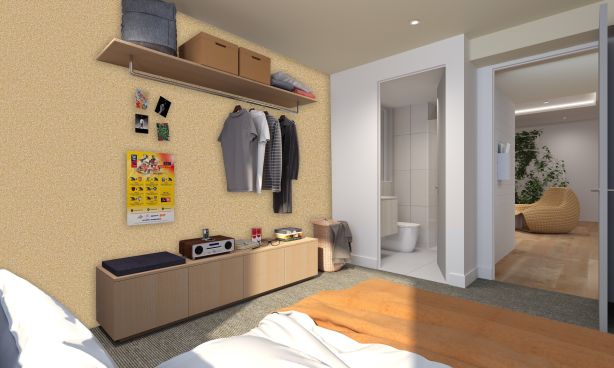 Frontyard's redeveloped building is four storeys, with the top two floors providing 18 rooms for accommodation. It also features kitchens for young people to cook a meal, sensory rooms for quiet contemplation and offices and consulting rooms for health, mental health and legal services.
The building is not only a first for youth services, it is also a first of sorts for world-renowned Melbourne-based architects Fender Katsalidis and builders Built.
For both, it's their first significant pro bono job in Melbourne. They teamed with the Property Industry Foundation to help deliver $8 million worth of refurbishment works, funded in part by the state government with other philanthropic donations.
Built project manager Luke Rankin said the build was challenging and inspiring for the company, which has previously undertaken other, much smaller, pro bono projects.
He said about 90 per cent of the internal building changed, meaning lots of work for the team involved.
"We'll probably be lacking a bit of sleep by the time it opens," Mr Rankin said.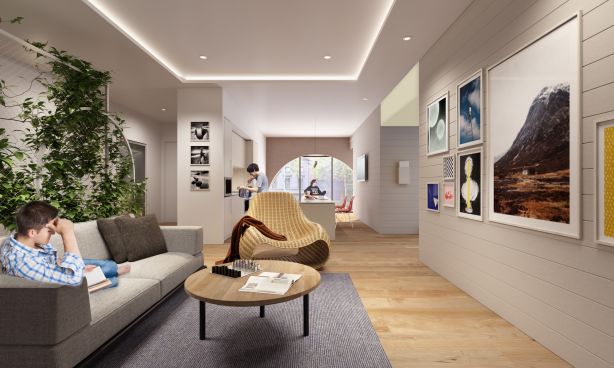 Fender Katsalidis Associate director Jessica Lee and director David Sutherland said the design was undertaken with Melbourne City Mission to make the building somewhere young people would feel welcome and calm.
"We wanted to create a sense of comfort from the time of arrival [at the building] because it's a very stressful time," Ms Lee said.
Mr Sutherland said the initial brief was to add two floors to the existing building for accommodation. When it became clear that would not be approved under planning regulations, the decision was made to gut the building and design it.
Mr Merritt says the entrance features soft furnishings, lots of plants, natural light and wooden finishes – all which create a calm, open and warm feeling for young people suffering from heightened trauma and anxiety about entering.
"There are lots of lines of sight, so there are no surprises – they know what they're stepping into," he said.
The crisis accommodation has also been specially designed and will allow young people to stay as long as they need.
Mr Merritt said he is already expecting the 18 beds to be full when the building officially opens and hopes that the extra rooms can help Frontyard in their mission to reduce the number of young people who end up in a cycle of adult homelessness.
"It's so exciting, it's a really big project and is going to allow us to show the sector, Australia and the world what can be done," Mr Merritt said.
This article was first published in www.domain.com.au by MELISSA HEAGNEY. Here is the link to the original article: https://www.domain.com.au/news/world-first-building-to-offer-home-to-young-people-sleeping-rough-808313/