What's going to happen to the market when all these new developments have finished being built?
There's no doubt that the residential building and construction industries have been pillars of strength for Canberra, by injecting millions of dollars to the local economy and providing a strong employment base.
We are a city that continues to progressively build upwards, with apartments driving Canberra's new dwelling construction since 2010. Over the numerous years of development, a new residential landscape has been carved out across the territory.
A range of factors have influenced the increase in apartment construction – from constrained land supply, affordability considerations, rapid population growth, urban infill, the desire to be connected to employment hubs and amenities, as well as a growing cohort of residents who have embraced apartment living.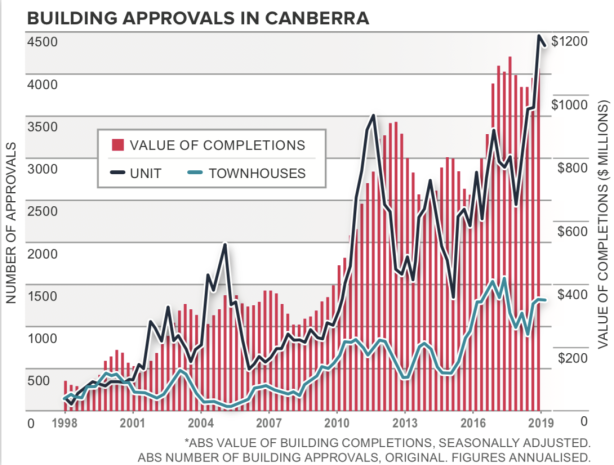 Development continues to provide the heftiest boost, accounting for just over 60 per cent of building approvals in the year to February, while house and townhouse approvals have each contributed a more modest one-fifth.
The year of 2018 produced a record high, with almost 4500 units approved. Apartments have hit the market in numbers unseen before, the majority being high-rise (towers with four floors or more). The previous multi-unit approval peak was mid-way through 2011 with just over 3500 approved. Townhouse development has fallen from the mid-2017 peak of almost 1600 approvals, sliding to 1325 approved in the year to February.
This hive of residential construction activity contributed $1.084 billion to the local economy during 2018, the third-highest value on record.
Our city has experienced a hive of construction activity that could be exacerbated when all development approvals come to fruition. Heightened development can have an impact – from prices to rents – outcomes that can be seen as both a positive and a negative, depending on which side of the fence you fall.
Growth in apartment prices has been non-existent for a number of years, growing at a mere 4.5 per cent over five years. The median unit price is 1.7 per cent lower over the past year, now at $426,719  – the same as recorded in 2016.
A large influx of supply can exacerbate declines in values, which have a domino effect on both households and developers financially. Declining apartment prices pose a significant risk to buyers who are yet to settle, particularly if the value is lower than the contracted price.
You could be a current apartment owner who is facing little-to-no capital growth, or a wishful home owner who is now faced with improved affordability.
Over the financial year to date, the highest volume of building approvals has been in areas that have strong links to transport, infrastructure and amenities – the suburbs of Belconnen, Gungahlin, Kingston and the CBD, with pockets of increased development stock being influenced by the type of buyer purchasing a new development and planning, which affects developers' decisions and the supply response.
The top four suburbs for multi-unit development approvals are dominated by tenants rather than owner-occupiers. There is no doubt Canberra's rental market is tight, as it is presently the second-most competitive Australian city, with vacancy rates at the low of 0.3 per cent and tenants faced with rising rents. The slice of the supply concentrated in rental dominated-areas will be welcomed by tenants, providing additional stock to ease rental price growth, and improve the vacancy rates.
Canberra is changing before our eyes with apartments likely to continue to provide new housing, as land supply and population growth motivate prospective home owners to purchase an apartment or perhaps townhouse.
This article was first published in www.domain.com. Here  is the link to the original article.